Hollywood Boulevard is laced with stargazers: the demo-taped dreamer, the Superman seeking to be the next big Hollywood hero, or the Michael Jackson impersonator vying have his story told in the next big documentary-they all walk upon stars in pursuit of their own. Unfortunately, the pathways to celebrity are multiple and vary in success; how could one journey the proper path to stardom?
Brett Cohen found the answer: if you want to be important, ACT important. With a few of his friends, fake security detail and a photographer, Brett soon found that being a star is much easire than one thought. Watch his social experiment: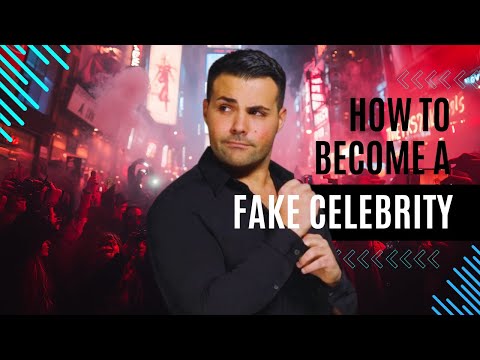 What does an experiment like this mean for the future of celebrity? Once I viewed this I immediately thought about the implications for public relations. Could achieving celebrity status be THAT simple? Staging stunts like this and seeing how strangers reacted to the entourage and the photography gave the impression that people may not really care about how someone comes to be a celebrity, but perhaps it is about the "fans" ability to be part of the moment. In fact, is it the celebrity or the fan who wants more attention?
Brett has never been in a film prior to this, and he has never been in a recording studio; however, people were making up multiple stories about how they were familiar with him. From being in Spiderman to having a hit single, Brett's "fans" were sure they were well-versed with his work.
What would happen if entertainment PR practitioners applied this concept? If a client has a difficult time gaining notoriety, would it be ethical to pull such a stunt? Depending on what a client is trying to build a fan base on, this could possibly work. Get the staff, change the wardrobe and there you have it: instant celebrity status.
While this video illustrated the fallacies of fame, it placed a mirror in front of society and the reflection wasn't flattering. It appeared that those around Brett were drawn by curiosity but soon they were engulfed in the experience and wanted to be a part of the commotion. People love to be seen, but being heard is even better. Social communities exist so people can share their lives and their accomplishments with the world; they network and grow their personal brands everyday by posting things for others to comment on, and in a way, evoking response and commentary from others can make one feel like a celebrity. Those who were interviewed by Brett and his crew were looking for an opportunity to be on television, no matter how far-fetched their claims for knowing him were.
If people are constantly vying for attention, would it be wrong to capitalize on that for the sake of PR? This idea is one that could spark many studies, but there's one concept that I walked away with. The celebrity universe is filled with many stars, and there are many people looking up at them dreaming of achieving the same glow; however, if being a celebrity was a simple as Brett's experiment, the stars have become just a little bit closer to reach.