Someday in mid August, I was listening to KIIS FM, the DJ said that he saw his friend sharing this cool song on Facebook, and he couldn't stop replaying the song. I still remember how surprised I was to hear a Korean song coming up on radio, it's "Gangnam Style", from South Korean singer and rapper, PSY.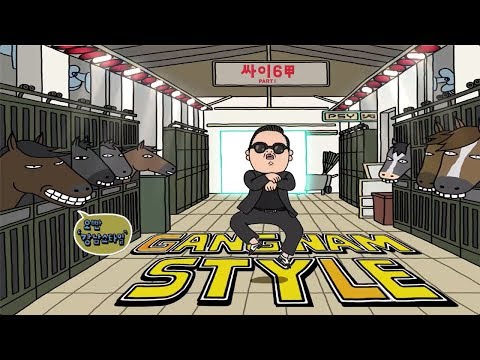 K-Pop is already a trend in Asia, but 10 years ago, it was J-Pop. My friends and I "loved" Japanese boy bands. We learned Japanese in order to sing their songs; we watched Japanese dramas and reality shows to get familiar with their culture; and of course, we learned their dance to be more part of J-Pop culture.
5 years ago, I would call that a "turning point" when friends introduced K-Pop to me. I was immediately fascinated by the catchy rhythm, repetitive lyrics, and cool dance choreography. Comparing to J-Pop, K-Pop drew people's attention and interest easily. Then "Sorry, Sorry" from Super Junior took over the entire Asian music market. It has been made into many different covers. Students, dancing crews, businessmen, or even Philippines prisoners danced "Sorry, Sorry" in different occasions to warm up atmosphere. All of a sudden, there was K-Pop everywhere all over Asia. People could and still can hear that when walking on the street; friends have different K-Pop songs in their I-Pods; Students can't be more interested to learn Korean as their second language; News covers every detail when there's a Korean singer visiting.
It is interesting to see how fast K-Pop is hitting America with "Gangnam Style". Gangnam Style is a Korean phrase that talks about a luxurious lifestyle in Gangnam, which is a trendy and affluent area in Seoul, South Korea. On an interview with CNN, PSY compared Gangnam as Beverly Hills, California. The lyrics talk about a stylish and trendy guy wants to invite ladies to get wild and have fun. The comical horse-riding dance in the music video soon becomes a trend. Its catchy rhythm, easy pronunciation of the lyrics, and funny dancing catch people's attention again.
With social media platform's sharing function, I think I won't be surprised anymore if there's another non-English or non-Spanish song playing on radio in America. Undoubtedly, "Gangnam Style" is even more popular than any K-Pop song ever. It has 169,540,241 views on YouTube so far. An article even compares "Gangnam Style" to "Call Me Maybe" of their insane virality. When I mention "Call Me Maybe", you can probably understand that you can always tell while there's a new hit that you can't miss out. Currently, "Gangnam Style" is still an on-going trend. I can hear it from radio everyday; PSY taught Britney Spears Gangnam Style on Ellen's show; Jay Leno made Mitt Romney go Gangnam Style; there was a Dance Cam on Dodger Stadium; the Oregon Ducks did their Gangnam Style Parody; LA Times pointed out that Gangnam Style is unstoppable. Undeniably people are getting addicted to "Gangnam Style".
Don't tell me you're still sitting on your chair after reading this article. Now, let's go Gangnam Style.