Taiwan Night Markets They say that good food will bring people closer together. When you think of good food, cuisine from famous Michelin chefs such as Alain Ducasse, Guy Savory and Gordon Ramsay might easily pop up in your mind, but coming from Taiwan, where we live by the philosophy to eat well and eat often, we don't necessarily define "good food" as those rated with Michelin stars. Instead, some of the country's most well-known dishes come from night markets. It is no wonder that night markets are always packed with people.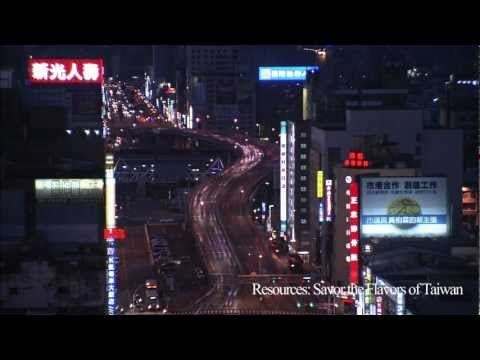 Night markets are street markets that operate at night, which allows visitors to eat, shop, and stroll leisurely. In addition to endless stands of food, night markets are also great places to shop for bargains and feel the pulse of Taiwan's night life. The markets are usually noisy and filled with energy, restaurant owners would make eye-catching signs and shout out their menus to attract crowds of curious diners, shoppers or onlookers. Night markets in Taiwan are famous for their xiaochi, which literally translates to "small eats." Due to its location on the Pacific Ocean and its proximity to China, the country is exposed to numerous Chinese cultures, thus Taiwanese food is a mix of the delicious cuisines from Min Nan, Teochew and Hokkien communities.
Taipei, the capital of Taiwan, has over 20 streets dedicated to night market. The portion of the dishes are usually bite size and served as to-go items so that you can eat while you are strolling down the night market. The dishes are offered at a low price, usually around only $2-$4 USD. Obviously, night markets don't have the same ambience as a Michelin restaurant, but it's a place where you can feel the essence of the Taiwanese culture. This is another reason why a lot of foreigners set night market as a must-go destination spot in Taiwan because there are a huge variety of dishes (ranging from sweet to savory) to choose from, the quality of food is fresh, and most importantly – the price is friendly.
There are too many items at the night market for me to cover it all, it's hard for me to pick out my favorites because to me, everything tastes so good. Small eats' popularity is unstoppable, even CNN  introduced 40 Taiwanese foods we can't live without. Here are a few items that I would always order when I am at the night market:
1. Bubble Tea – Originating from Taichung, Taiwan back in the 1980's, bubble tea contains a tea base drink and it often comes with chewy tapioca balls. There is a large variety of it now with assorted flavors ranging from fruit-based to milk-based. Meanwhile, it can be served cold, hot, or in slush as well. The most popular bubble drink would be the classic bubble milk tea with tapioca. This drink is now very popular worldwide; there are quite a number of restaurants in LA that also serves it. My favorite place to go would be the Half and Half Tea House, there are several franchises in cities like Monterey Park, San Gabriel and Pasadena.
2. Stinky Tofu – This is known as the love-it or hate-it snack as it is a form of fermented tofu with a strong odor. There are three popular ways of serving it. First is the deep-fried stinky tofu, also my personal favorite. You would usually eat it with sour pickled vegetable on the side to balance out the greasiness. Second is the spicy stinky tofu, it is served on a rich-flavored spicy soup base with duck blood and Chinese sauerkraut. Next is the soft steam stinky tofu that goes very well with rice, congee, or noodles but this is also the smelliest of them all. My tips for first-time eater? Just inhale deeply because the smellier it is, the better and once you start eating it, you won't even smell it anymore.
3. Oyster Omelet – This is a dish that is consists of small oysters, sweet potato starch and vegetable. The whole thing has a gooey chewiness. To perfect this dish, a chili sauce will be added on top of the omelet for added taste. This is definitely one of the most famous dishes in the night market; it was voted as the best snack to represent Taiwan by 1,000 local Taiwanese in 2007.
After taking a glimpse at my three recommended items, have I aroused curiosity in Taiwanese small eats for you yet? Is your mouth watering or are you are bummed out that Taiwan is a 13-hour-flight away? Don't worry, I can turn that frown around because as Los Angeles is one of the most diverse cities with a large population of Asian Americans, we actually have a night market in town! 626 Night Market, the largest Asian night market in Southern California, will be held on October 20 and 21 at the Santa Anita Park. Follow their Facebook Page to get the latest update on the upcoming event. You are now just a month away from trying some of these amazing Taiwanese small eats!
Although I wouldn't necessary mind dining at a Michelin star restaurant during special occasions, but who needs those fancy, expensive restaurants when I can go to a vibrant night market (if only I can go everyday), right?