With the winter season comes many holidays and traditions, and one of the beauties is that we all have different ones. Most of the time, we seem to think of our own as the "right" ones. And it just so happens that my absolute favorite tradition this season is one that is not celebrated, and for the most part unheard of, in the U.S. It is the Swedish tradition of St. Lucia.  However, it is actually celebrated in some states with large communities of people with Scandinavian roots. The legend stems from the story of a young Italian girl who died as a martyr in 304. She lived in Syracusa, Sicily, and according to the legend her husband accused her of being a Christian and exposed her to the community, after she had given away food from their home to the poor. Being Christian at the time was a crime in the Roman Empire and she was sentenced to death. As a revenge, she allegedly poked her eyes out and sent them to the person who exposed her, her husband. St. Lucia is knows to be the saint of the visually impaired. Her remains are preserved and kept at St. Jeremiah's Church in Venice. St. Lucia falls on December 13 every year and the first time the tradition appeared in Sweden was in 1764, but there is little known about why. According to urban legends, that night is supposedly dangerous, where supernatural spirits were set free and animals could talk. In the mid 1800′s, the tradition of St. Lucia as we know it today started to form.
St. Lucia is a very family oriented celebration and every year Sweden, and most Swedish cities, pick an official Lucia of the year, usually by a community voting. She will lead the official Lucia celebrations broadcasted on national television.
So what exactly is the tradition of St. Lucia? It's hard to explain, but I'll try. Early morning (like 6 a.m early!) Lucia comes with a crown of candles in her hair, dressed in a long-sleeved white night gown with a red silk ribbon tied around her waist. She is followed by an entourage of girls (and sometimes boys), each holding a candle in their hands, in what is called a "Lucia train." Usually the train will walk in from behind and walk through the crowd down a center isle and gather in a formation at the front of the crowd. They perform  a number of rehearsed Christmas carols and the Lucia often reads a poem or a prayer. All the lights are turned off so the candles are the only things lighting up the room, giving it a really cozy and Christmasy feeling. Afterwards, the audience often gather to have coffee and gingerbread cookies and traditional Swedish Lucia buns.
The songs sang are very traditional and filled with joy and peace. Here is a translation of the most common song sang when the Lucia train first walks in:
Night walks with a heavy step
Round yard and hearth,
As the sun departs from earth,
Shadows are brooding.
There in our dark house,
Walking with lit candles,
Santa Lucia, Santa Lucia!
Night walks grand, yet silent,
Now hear its gentle wings,
In every room so hushed,
Whispering like wings.
Look, at our threshold stands,
White-clad with light in her hair,
Santa Lucia, Santa Lucia!
Darkness shall take flight soon,
From earth's valleys.
So she speaks
Wonderful words to us:
A new day will rise again
From the rosy sky…
Santa Lucia, Santa Lucia!
To get the full experience you really have to see it in real life. But the video gives a glimpse of what it's like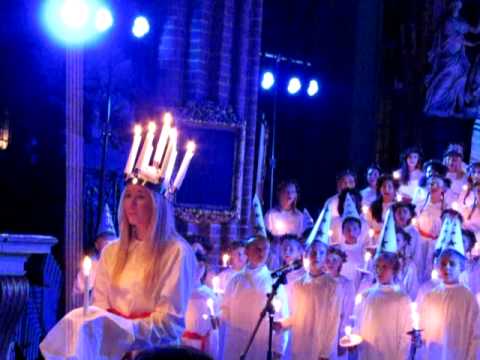 Intrigued? For all of you who want to attend a traditional Lucia celebration, or just try the Lucia buns, this is your lucky day! The Swedish Women's Educational Association (SWEA) hold their annual Christmas Fair, including a traditional Lucia celebration, at the Shrine right by USC this Sunday, December 4.