The Hispanic community has become a golden chest during the Presidential Elections of 2012, as more than 21 million Hispanics will be eligible to vote in November 6. Thus, it is no surprise that both candidates, Mitt Romney and President Barack Obama, have been trying to weave strategies and messages to assure the highest percentage of these votes.  But what does the Hispanic vote mean?  Why is it a key factor in determining who will be the next President of the United States?
The Latino population represents a powerful force in many of the states that could drive the candidacy of Obama or Romney to a triumph. There are presently 118 congressional districts where more than one-fifth of the population is Hispanic. Ninety-three of these districts are in the four states with the most 2012 electoral votes – California, Texas, Florida and New York. Presidential candidates have been maneuvering the perception of the Latinos in order to earn their trust but each one stands in very different spots of the Latinos' perception string.
On one side, President Obama recently approved what is called "The Deferred Action for Childhood Arrivals". Obama's logic has sought a more humanistic treatment for children who were brought by their parents to the United States without proper inspection from the U.S. Department of Homeland Security and who had no will or saying for this action. The immigration initiative grants a two-year deportation deferral, work permits and eligibility for College Federal Funds for those who meet the U.S. Citizenship and Immigration Services (USCIS) guidelines. Certainly with this immigration relief, the Democratic Party has obtained the close attention of young undocumented citizens and their parents. As many as 1.76 million (out of which 85% are Latinos) of immigrants are and will be eligible to apply to this deportation relief.
Immigration reforms and policies are definitely one of the major concerns among the Latino population. But if you thought Obama has won the Latino's political loyalty you might want to think again. The Hispanics have deeply criticized President Obama for his Administration's failure to support this community. According to figures from Immigration and Customs Enforcement, nearly 1.4 million people (Latinos in its majority) were deported to their country of origin during the first 42 months of Obama's administration. This is a record for any other U.S. President. Therefore, the Latinos perceive new immigration policies as political maneuvers instead of presidential commitment.  After all, it is no coincidence that the Deferred Action was approved during Elections times. In fact, Obama's new immigration policy requires that applicants renew their temporary status every two-years. This obligates citizens to support the current Administration in order to be able to remain in the U.S. since no one knows what will happen to these policies if Obama is not re-elected.
Now, we must understand that Latinos are not just concerned about immigration. To the surprise of the general perception, Latinos can be very conservative. Former President Ronald Reagan once said: "Latinos are Republicans- they just don't know it yet". The truth is Latinos come to the United States still attached to very strict Christian and family values that do not open the door to same-sex marriage, sex before nuptials and they certainly do not approve of abortion. They care also for the U.S. economy and unemployment numbers. They are the population who face the highest unemployment rates-11.9%, compared to the rest. This sounds good for Romney and the Republicans.
The problem with Romney is that he has stepped into the wrong and extreme side of the Immigration issue. During his nominating race back in 2011, when asked how he would deal with immigrants if he were to win the presidency, Romney embraced the "self deportation" approach that would encourage undocumented immigrants to voluntarily return to their home-countries without the use of law enforcement, including their children. If you are a Latino, the title "self-deportation" can be the worse wording put together. If Hispanics were not loyal to Obama, they were now terrified by Mitt Romney. And although Romney has tried recently to soften his side by trying to support a Dream Act that would give legal status to immigrants who have served in the U.S. Armed Forces, the truth is that we are only two months away from Election Day. Will he be able to reconcile with these voters in time? What do you think?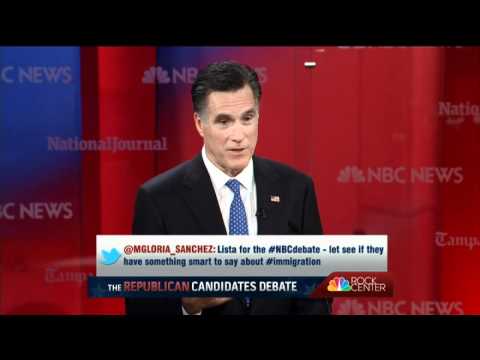 ---